At Lighting Service, Inc. our technicians are certified, so you know you have qualified individuals working on your facility.
By putting new, energy efficient components into your existing fixtures, you can save up to 60% on your facility's lighting utility costs.
By performing a retrofit to your existing lighting system, you'll get better light distribution at the work surface, which increases productivity, all while using a fraction of the energy.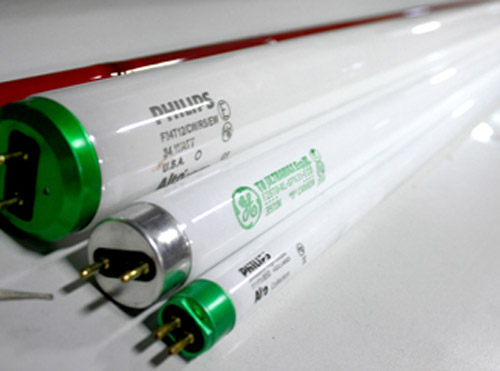 With advances in lighting technology, many lighting systems are no longer the most energy efficient option. These days technology is available which provides the same amount, or more light, yet operates using 25%-60% less energy.
How It Works—
Most people are familiar with the old fluorescent lighting fixtures found in many office buildings. Frequently they are dull, poorly lit fixtures with large, round T12 lamps. These lamps are powered by old magnetic ballasts which consume more energy, produce less light, and waste energy in the form of excess heat. Newer, electronic ballasts are much more energy efficient than magnetic ballasts. Many use only 50% as much energy as its magnetic predecessor. Though they use a fraction of the energy, they still provide your facility with equal or greater light levels in comparison to your current system.
* Less energy used translates directly into lower power bills.
* This upgrade is good for the environment.
T12 Phase Out
T12 lamps and magnetic ballasts are so inefficient, that production by manufacturers has ended, as they no longer meet today's standards for energy efficiency. The new technology costs less to maintain, looks nicer, provides better, longer lasting light.
If your facility still has old technology, now is the time for a lighting retrofit. These projects are eligible for incentives that significantly offset the cost of the capital improvement. Lighting Service, Inc. will manage your retrofit, assure you receive Utility Incentives by complying with requirements to qualify, assist with paperwork, and let you know the timeline of when your projects pays for itself.
For more information on the services we offer, and how we can save your facility up to 50% of the monthly energy used to operate the lighting system, please contact us at sales@lightingserviceinc.com or call (314) 428-0800.